Ciao ragazzi!!!!!!
Stanchi di stare a casa facendo finta di studiare o per strada a bere senza nessuno scopo nella vita? ?
È tempo di provare emozioni assopite da tempo o addirittura provare a riattivare i muscoli (se ci riuscite), tornano infatti le competizioni sportive targate ESN! ⚽?
Organizzeremo uno SPORT DAY in cui si svolgeranno TRE TORNEI:
 - CALCIO A 7 
 - BASKET (3 vs 3)
 - PALLAVOLO (6 vs 6)
Come? Non sei uno sportivo? Nessun problema! 
È comunque il posto giusto per te se vuoi stare in compagnia, bere qualcosa assieme agli altri studenti Erasmus e magari organizzare un picnic, facendo ovviamente un tifo sfegatato per i tuoi amici che si staranno ammazzando sul campo per vincere questa importante competizione, il tutto accompagnato ovviamente dalle note del mitico PartyBag! ??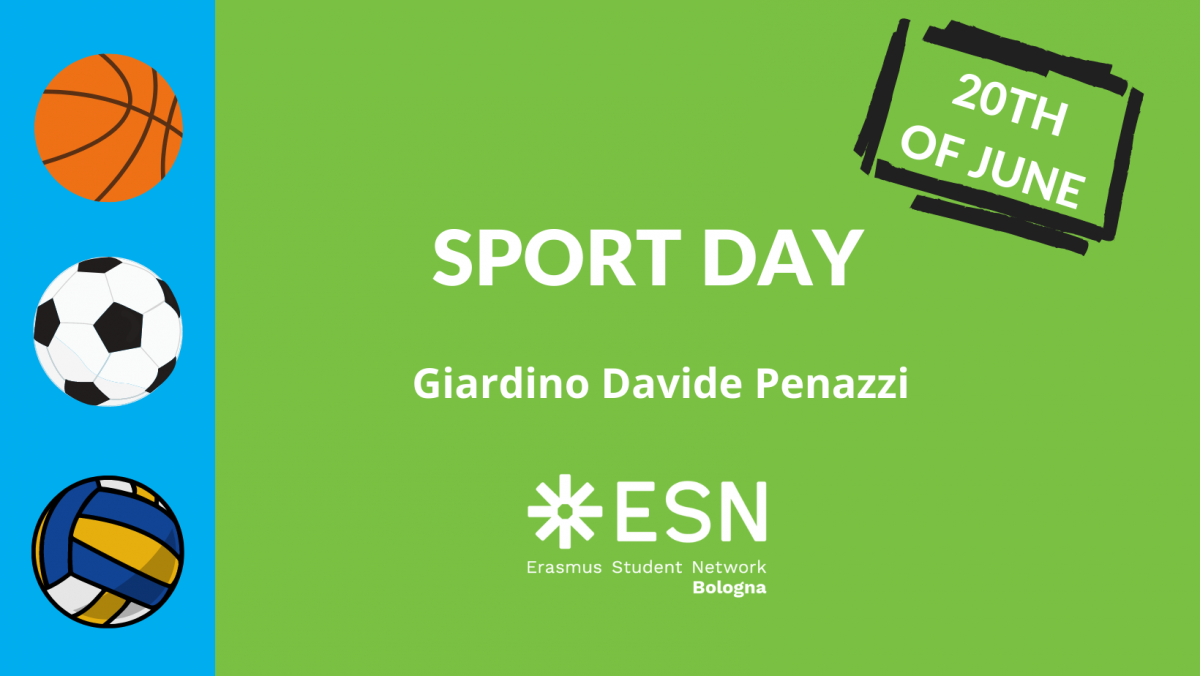 Struttura dei tornei:
Il torneo prevede una fase a gironi seguita da semifinali e finali.
Le squadre di ogni girone si affronteranno una volta solasaranno garantite un minimo di tre partite a testa (probabilmente di più, da valutare in base alle squadre iscritte).
 
Modalità di iscrizione: ?
Potete scegliere una squadra legata ad una particolare regione geografica, oppure mischiare tutto!!
 
Per prima cosa registrate cosa la vostra squadra qui: https://docs.google.com/forms/d/e/1FAIpQLSfDQtvmfAeY8Ypv_9RCn-VuOOrhoJjgg9ezZTRQlMfw3g4TJQ/viewform
Riceverete una mail di conferma poco dopo che spiegare me modalità di pagamento della quota d'iscrizione.
 
ESN supporta la maggior parte delle spese: il costo infatti è di soli 10€ a persona!
Una persona può fare parte di una sola squadra per sport, ogni sport aggiuntivo ha il costo di soli 5€.
Quindi un super sportivo che vuole partecipare a tutti e tre i tornei pagherà solo 20€ ;) ATTENZIONE: potrebbero esserci sovrapposizioni di partite!
TUTTI i giocatori devono essere tesserati ESN.
 
NON HAI UNA SQUADRA?!? NON E' UN PROBLEMA!!! COMPILA IL FORM UGUALMENTE, SAREMO NOI A CERCARE UNA SQUADRA PER TE!!!
 
Dove: ☀
Le partite si disputeranno in un bellissimo ed ampio parco con i campi all'aperto a pochi minuti a piedi dal centro!
Quando: ?
Domenica 20 giugno durante tutto l'arco della giornata.
Le partite avranno un orario prestabilito secondo il calendario che pubblicheremo qualche giorno prima dell'evento. Non sarà possibile cambiarne l'orario. ?
Il regolamento ufficiale dell'evento e di ogni singolo sport vi verrà inviato per mail.
Prima delle partite verrà fatto il riconoscimento con carta ESN e documento di identità.
Ogni partita sarà arbitrata da un arbitro esterno professionista (incluso nella quota di iscrizione!). Non sparate all'arbitro! Lui non sparerà a voi! (Al massimo insultatelo con amore).
 
Cosa si vince? ?
SORPRESA!!!
Verranno premiate le prime 3 squadre classificate ed il capocannoniere per ogni torneo! 
VI ASPETTIAMO NUMEROSI!!!!
*************************************************************************************
Hey guys!!!!!!
Tired of staying at home pretending to study or on the street drinking without any purpose in life? ?
It's time to experience long-dormant emotions or even try to reactivate your muscles (if you can), ESN sports competitions are back! ⚽?
We will organize a SPORT DAY in which THREE TOURNAMENTS will take place:
 - FOOTBALL 7
 - BASKETBALL (3 vs 3)
 - VOLLEYBALL (6 vs 6)
What? You aren't a sportsman? No problem!
It is anyway the right place for you if you want to be in good company, have a drink with the other Erasmus students and maybe organize a picnic, obviously cheering your friends who will be killing each other on the pitch to win this important competition, all obviously accompanied by the notes of the legendary PartyBag! ??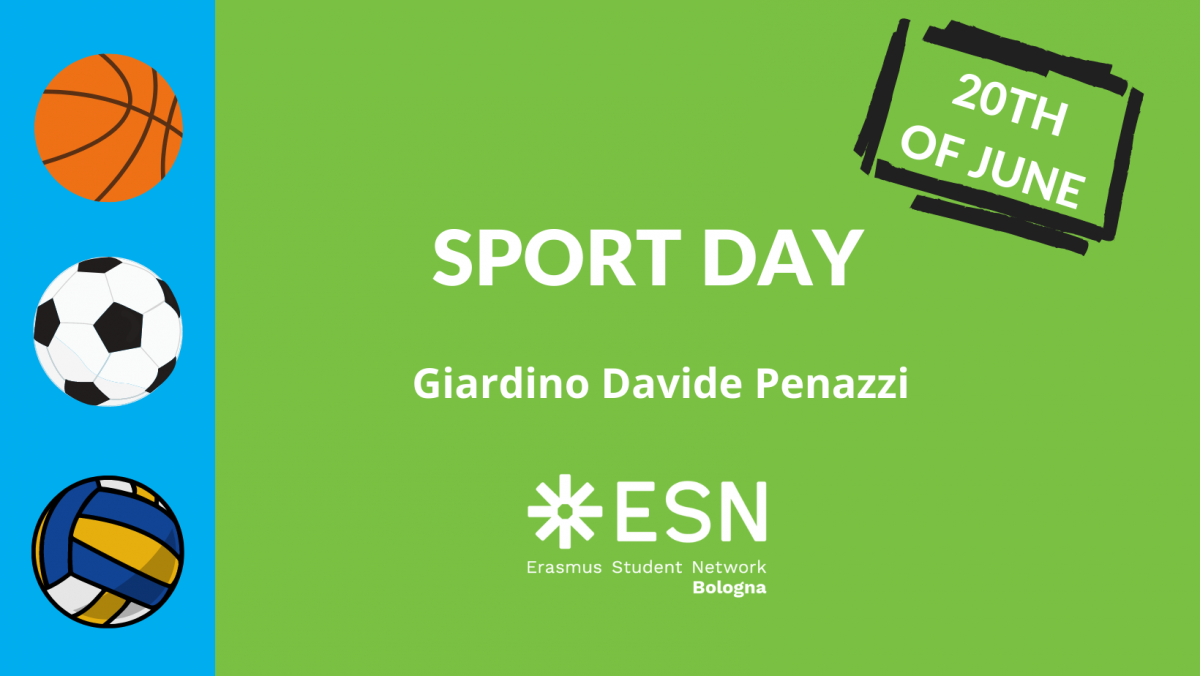 Tournament structure:
The tournament includes a group stage followed by the semifinals and finals.
The teams in each group will face each other once only and a minimum of three games each will be guaranteed (probably more, to be evaluated based on the teams registered).
 
How to register: ?
You can choose a team linked to a particular geographic region, or mix everything !!
 
First register your team here: https://docs.google.com/forms/d/e/1FAIpQLSfDQtvmfAeY8Ypv_9RCn-VuOOrhoJjgg9ezZTRQlMfw3g4TJQ/viewform
You will receive a confirmation email shortly after.
 
ESN supports most of the expenses: in fact, the cost is only € 10 per person!
A person can be part of only one team per sport, each additional sport costs only € 5.
So a super sportsman who wants to participate in all three tournaments will pay only € 20 ;) ATTENTION: there could be some matches overlap!
ALL players must be ESN members.
 
YOU DON'T HAVE A TEAM?!? IT'S NOT A PROBLEM!!! FILL OUT THE FORM ANYWAY, WE WILL BE LOOKING FOR A TEAM FOR YOU !!!
 
Where: ☀
The matches will be played in a beautiful and large park with outdoor courts just a few minutes walk from the center!
When: ?
Sunday, June 20th throughout the day.
The matches will have a fixed time according to the calendar that we will publish a few days before the event. It will not be possible to change the time. ?
The official regulation of the event and of every single sport will be sent to you by email.
Before the matches, the identification with ESN card and identity document will be done.
Each match will be refereed by a professional external referee (included in the fee!). Don't shoot the referee! He won't shoot you! (At most insult him with love).
 
What do you win? ?
SURPRISE!!!
The top 3 ranked teams and the top scorer for each tournament will be awarded!
WE HOPE MANY OF YOU WILL COME!!!!
*************************************************************************************
Hola chicos!!!!!!
Cansados de estar sentado en casa fingiendo estudiar o en la calle bebiendo sin ningún propósito en la vida? ?
Es la hora de probar emociones que han estado dormidas durante mucho tiempo o incluso de intentar reactivar tus músculos (si puedes), ¡vuelven las competiciones deportivas de ESN! ⚽?
Vamos a organizar un SPORT DAY con TRES TORNEOS distintos:
 - FÚTBOL 7 
 - BALONCESTO (3 vs 3)
 - VOLEIBOL (6 vs 6)
Cómo? No eres un deportista? No hay problema. 
Sigue siendo el lugar adecuado para ti si quieres estar en compañía, tomar algo con otros estudiantes Erasmus y quizás organizar un picnic! (con un poco mùsica reggeatòn), obviamente animando con fuerza a tus amigos que se matarán en el campo para ganar esta importante competición, todo ello acompañado, por supuesto, de las notas de la mítica PartyBag! ??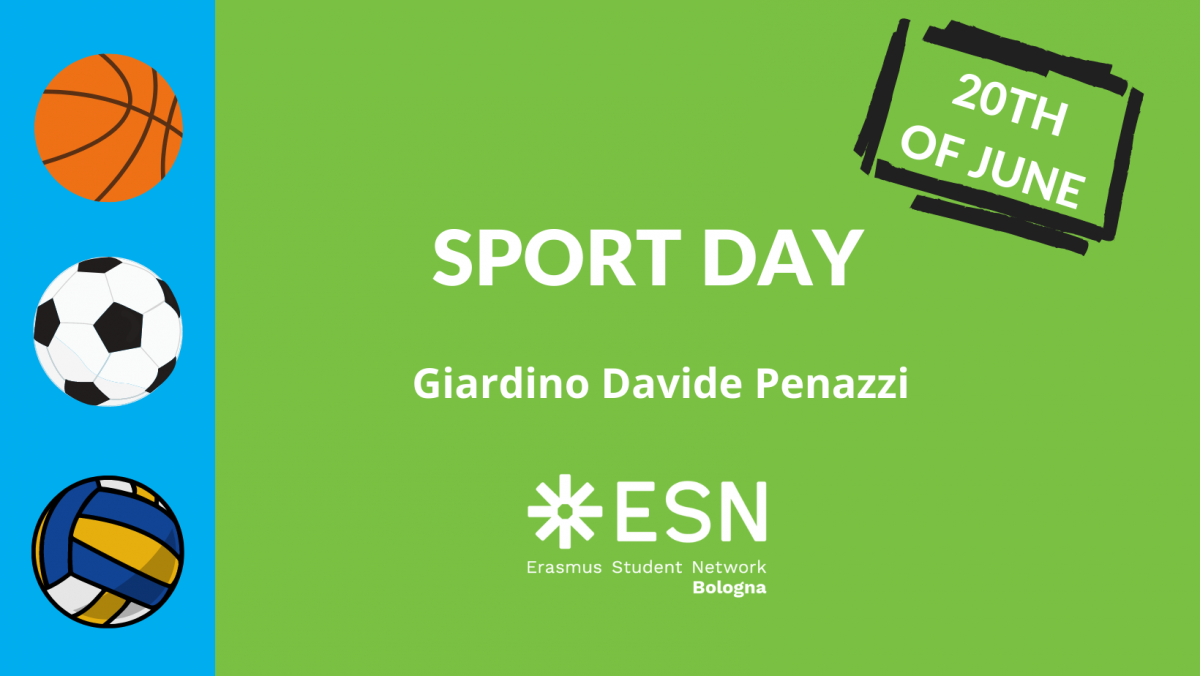 Estructura del torneo:
El torneo consta de una fase de grupos seguida de semifinales y finales.
Los equipos de cada grupo se enfrentarán una sola vez y se les garantizará un mínimo de tres partidos a cada uno (probablemente más, se evaluará en función del numero equipos apuntados).
 
Cómo registrarse: ?
Puedes elegir un equipo relacionado con una región geográfica concreta, o mezclarlo todo.
 
Primero registre su equipo aquí: https://docs.google.com/forms/d/e/1FAIpQLSfDQtvmfAeY8Ypv_9RCn-VuOOrhoJjgg9ezZTRQlMfw3g4TJQ/viewform

Poco después recibirá un correo electrónico de confirmación en el que se explica cómo pagar la cuota de inscripción.
 
ESN sufraga la mayor parte de los gastos: ¡el coste es de sólo 10 € por persona!
Una persona sólo puede formar parte de un equipo por deporte, cada deporte adicional cuesta sólo 5€.
Así que un superdeportista que quiera participar en los tres torneos sólo pagará 20€ ;)

ATENCIÓN: algunos partidos podrían tener el mismo horario!
TODOS los jugadores deben ser miembros de ESN.
 
¿NO TIENES UN EQUIPO? ¡¡¡NO HAY PROBLEMA!!! RELLENA EL FORMULARIO DE TODOS MODOS, ¡¡¡BUSCAREMOS UN EQUIPO PARA TI!!!
 
Dónde: ☀
Los partidos se jugarán en un hermoso y amplio parque con canchas al aire libre a pocos minutos andando del centro de la ciudad.
Cuándo: ?
Domingo 20 de junio durante todo el día.
Los partidos tendrán un horario establecido según el calendario que publicaremos unos días antes del evento. No será posible cambiar la hora. ?
El reglamento oficial del evento y de cada deporte se le enviará por correo electrónico.
Antes de los partidos se le reconocerá con la tarjeta ESN y el DNI.
Cada partido será arbitrado por un árbitro profesional externo (incluido en la cuota de inscripción!). No dispares al árbitro! El no te disparará! (Como maximo, insultarlo con amor).
 
Qué se gana? ?
SORPRESA!!!
Se darán premios a los 3 primeros equipos clasificados y al máximo goleador de cada torneo. ???
¡¡¡¡ OS ESPERAMOS NUMEROSOS!!!!
Date:
20/06/2021 -

10:00

to

21:00
Price:
10€ per person (any additional sport 5€)
What's included:
Sport torunaments of Football, Basketball and Volleyball (minimum 3 games guaranteed)
Contact details:
Franz +39 3387313843 franz@esnbologna.org
An ESNcard of this section required.