The ESNcard is not just the membership card of ESN, is the symbol of a new generation of students, with over 1100 discounts on 136 cities and 37 countries.
Why do I need the ESNcard?
The ESNcard allows you to participate in all our activities at a low price. But that´not all, you can also have benefit from all our local partners arround the citty. You can find the list here
The ESNcard offers:
Discounts with our partners for all our activities; 

discounts for museums, cinemas, restaurants, sports...

The possibility to attend all our 

parties; 

discounts for discos, bars....

The possibility to attend all our 

trips 
Discounts with the partners of any ESN Section, you can find the complete list of all the partners in Europe on ESNcard website here.  
European Valid card accepted by any ESN Section
How can I have the ESNcard?
You can get it at our office during office hours, please check this page for further information.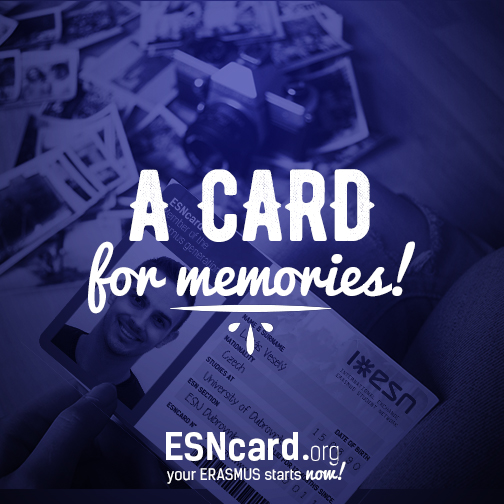 You can find all the information on www.esncard.org.
To stay constantly updated and not miss any opportunity follow us on ESNcard