Ciao a tutti Erasmus! 
Pronti per il prossimo film??
Vi piace il cinema? Vorreste approfondire la vostra conoscenza della lingua e della cultura italiana in compagnia di tutti i vostri amici internazionali? O più semplicemente avete voglia di vedere un bel film?
Questo mercoledì vi proporremo "La mafia uccide solo d'estate"!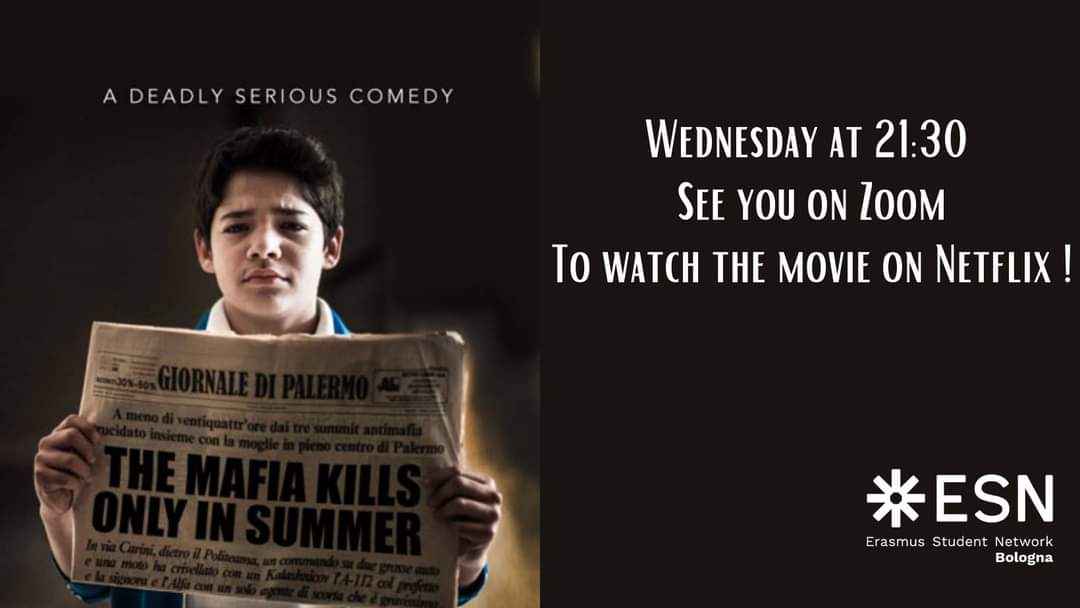 - Mercoledì 21 Aprile alle 21:30
 - Avrete bisogno di un account Zoom, Netflix e qualcosa di buono da spizzicare e bere!
 - Compilate il form (non oltre le ore 16.00 del 21 aprile) che trovate qua:
Vi invieremo il link del Netflix party su Zoom.
Il giorno dell'evento renderemo disponibile in bio anche il link per lo Zoom meeting.
Hai dimenticato di compilare il form? Nessun problema puoi accedere alla riunione Zoom dal seguente link:
Volete sapere di più sul film?!
La mafia uccide solo d'estate è un film del 2013 diretto e interpretato da Pierfrancesco Diliberto, più noto come Pif. È una commedia drammatica che attraverso i ricordi d'infanzia del protagonista ricostruisce, in toni spesso paradossali e ironici, la sanguinosa stagione dell'attività criminale di "Cosa nostra" (l'organizzazione mafiosa siciliana) a Palermo dagli anni settanta fino agli anni novanta.
Volete sapere di più a riguardo di questo drammatico periodo?? 
Allora non mancate! Ci vediamo mercoledì!
*************************************************************************************
Hello Erasmus friends! 
Are you ready for the next movie?
Do you like cinema? Would you like to improve your knowledge of Italian culture and language with all of your international friends? Or maybe you just feel like watching a good movie?
We are proposing "La Mafia uccide solo d'estate" on Wednesday!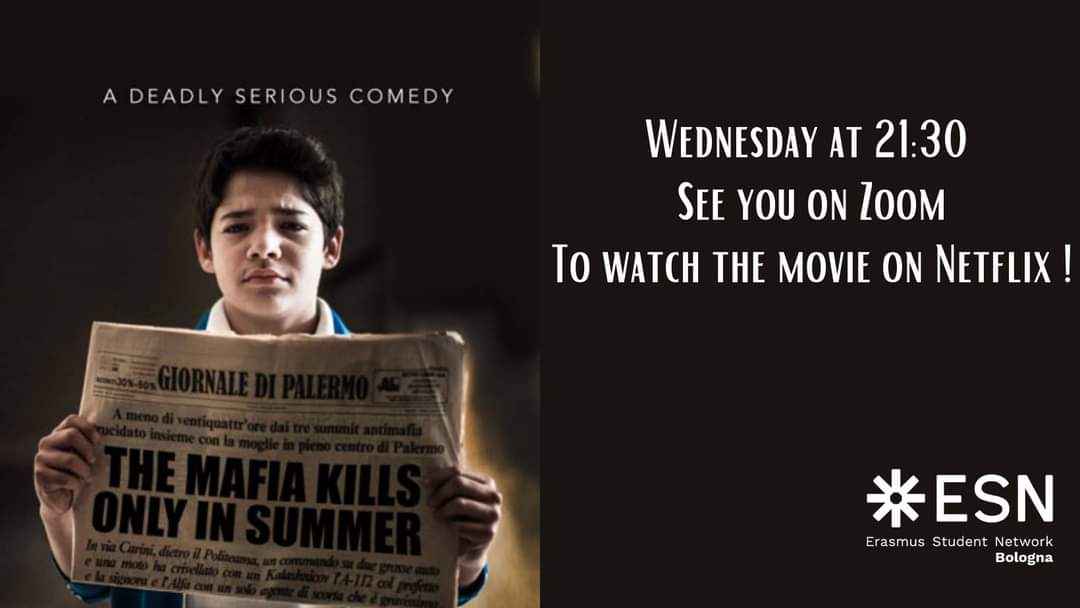 - Wednesday, 21
st
 of April at 21:30
 - You'll need a Zoom account, a Netflix account and something nice to snack and drink!
 - Fill in the form (before 4 p.m. of 21st of April) that you can find here:
We'll send you the link to the Netflix party at the Zoom meeting.
We'll also share the Zoom meeting link that day.
Did you forget to fill the form? No problem, you can click on the direct Zoom meeting link here:
Do you want to know more about the movie?
The Mafia Kills Only in Summer (Italian: La mafia uccide solo d'estate) is a 2013 Italian film directed and interpreted by Pierfrancesco Diliberto, mainly known as Pif. It is a comedy-drama that by means of the protagonist's childhood memories tells, in an ironical and paradoxal flavour, the bloody season of the mafia organisation "Cosa nostra" in Palermo (Sicilia) form the seventies to nineties.
Do you want to know more about that dramatic period?
Then be there! We'll see each other on Wednesday!
Date:
21/04/2021 -

21:30

to

23:30
Meeting Point:
https://unibo.zoom.us/j/94776391849?pwd=VFROT0dzeGg4Y25ZSzZFMUdzeCtnZz09