Ciao a tutti Ragazzi!
Siete appena arrivati a Bologna e volete conoscere i vostri nuovi compagni di viaggio in questa nuova fantastica tappa della vostra vita chiamata Erasmus ?
Quale modo migliore di farlo se non con un 
TANDEM A TEMA
 in una bellissima location come il pub più famoso di via Zamboni, si tratta del 
Cluricaune Irish Pub
: 
https://www.cluricaune.it
Ogni martedì un tema diverso !
Per questa settimana vi presentiamo People Bingo Tandem Night!
Sei appena arrivato a Bologna e non vedi l'ora di conoscere gente nuova? O forse sei venuto al tandem la scorsa settimana e non ne hai abbastanza? Non preoccuparti; siamo tornati con il nostro People Bingo Tandem! 🌍
Riesci a trovare qualcuno che venga da un Paese particolare? O qualcuno che non abbia mai bevuto il limoncello? 🍋O con altre specificità? Ti verrà lasciato un foglio e dovrai trovare persone con ciascuna caratteristica.
Sii veloce!! I primi vincitori riceveranno un bel premio 🍻 
Quando? Tutti i martedì a partire dalle 22:00 circa ci sarà la serata TANDEM a tema.
Dove?
 In uno dei più famosi locali di Bologna, l'
Irish Pub di via Zamboni 18
 (
mappa
). Situato nel cuore della zona universitaria e a pochi metri dalle famosissime due torri, dal 1995 il Cluricaune Irish Pub rappresenta l'ambiente ideale per tanti bolognesi, studenti ed Erasmus che desiderano trascorrere piacevoli ed informali momenti di relax tra amici.  Quando entrate ci trovate al piano di sotto!
Al Cluricaune vengono anche trasmesse tantissime partite di calcio italiane ed internazionali!
ORA L'INFO CHE STAVATE ASPETTANDO: durante la serata con la vostra tessera Esn avrete sconti sulle birre e sui cocktail:
1€ di sconto sulla pinta
0,50€ sulla mezza pinta
1€ su cocktail e long drink
Ecco i menu con tutti i prezzi:
Rimanete sintonizzati ! Perché questa sarà solo la prima serata, nei prossimi martedì potremmo proporre anche qualcos'altro di interessante oltre al TANDEM e chiaramente gli sconti sono validi tutti i giorni.
- Questo evento è stato organizzato dai volontari di ESN Bologna perhè tu possa vivere una grande esperienza Erasmus !
- Tutti gli eventi sono senza scopo di lucro e sono organizzati da studenti per studenti su base volontaria
- ESN non si assume alcuna responsabilità in caso di danni causati a se stessi, a terzi, a qualsiasi persona o cosa, che dovessero verificarsi nell'ambito dell'attività o in qualsiasi altra iniziativa sviluppata dalla suddetta associazione.
*************************************************************************************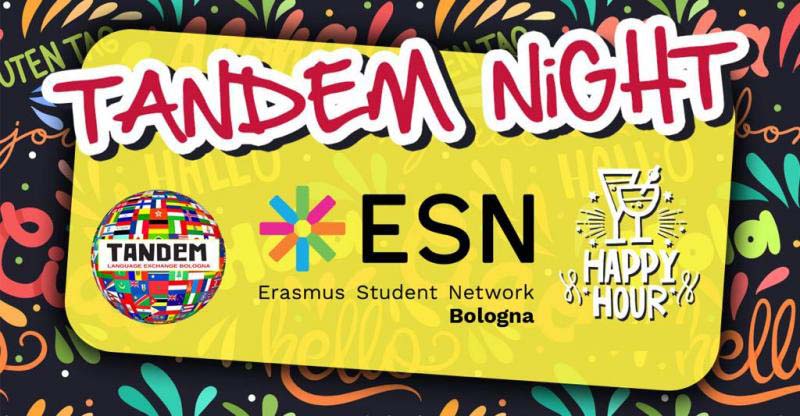 Hi Guys!
Have you just arrived in Bologna and you want to make new fiends that will live this fantastic adventure named Erasmus ?!
The best way to do it is come to a 
THEMED TANDEM 
in a beautiful location like the most famous pub of via Zamboni, it's the 
Cluricaune Irish Pub
: 
https://www.cluricaune.it
For this week we present  People Bingo Tandem Night!
Are you new to Bologna and can't wait to meet new people? Or maybe you came to our tandem last week and simply can't seem to get enough? Don't worry, we are back with our People Bingo Tandem! 🌍
Can you find someone from some uncommon country? Or someone who has never tried limoncello? 🍋Or with other features? You will be given a sheet and will have to find a person to match each characteristic. 
Be fast!! The first winners will get a nice prize 🍻 
When? Every Tuesday starting from 10:00 p.m. there'll be a TANDEM night.
Where?
 A
t 
Cluricaune Irish Pub in Via Zamboni 18
 (
map
). Located in the heart of the university zone and only a few meters from the two main towers of Bologna. From 1995 this pub is the ideal place where a lot of "Bolognesi" students and Erasmus like you spend some time in an informal setting. 
When you enter you will find us downstairs!
Also many italian and international football matches are broadcasted at Cluricaune
!
NOW THE BEST PART: you'll have discount by your Esn Card on beers and cocktails:
1€ of discount on "pinta" (pint)
0,50€ on "mezza pinta" ( half-pint)
1€ on cocktails
Look up the menus for more info:
Stay tuned ! Because this is just the first night. In the nexts Tuesday we'll probably do something different and obviously the discounts are valid everyday.
- This event was organized by ESN Bologna volunteers so you can have a great Erasmus experience!
- All events are non-profit and are organized by students for students on a voluntary basis
- ESN assumes no responsibility in case of damage caused to oneself, to third parties, to any person or thing, which may occur in the context of the activity or in any other initiative developed by the aforementioned association.
Date:
26/09/2023 - 22:00

to

27/09/2023 - 01:00