Ciao a tutti Erasmus! 
Pronti per la prossima MovieNight?? 
Vi piace il cinema? Vorreste approfondire la vostra conoscenza della lingua e della cultura italiana in compagnia di tutti i vostri amici internazionali? O più semplicemente avete voglia di vedere un bel film?
Questo mercoledì non perdete la nostra ultima ed esilarante proposta: "Diaz"!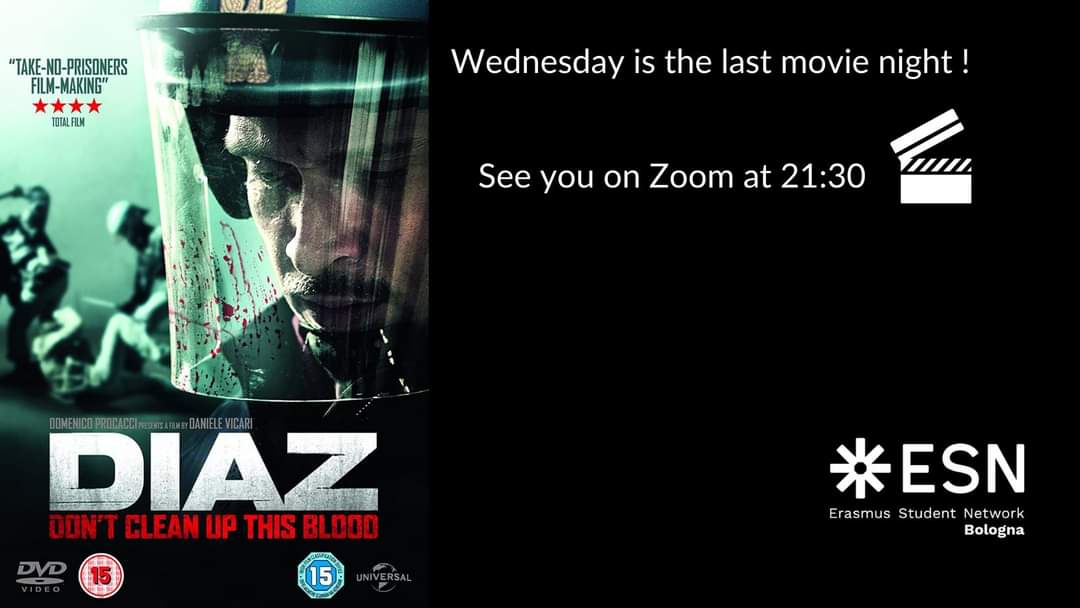 Info utili:
- Mercoledì 5 maggio alle ore 21:30?
- Avrete bisogno di un Account Zoom e Netflix?
- Compilate il form (non oltre le ore 16.00 del 5 maggio) qui?
- Infine, vi invieremo il link del Netflix party su Zoom e il giorno dell'evento renderemo disponibile in bio su Instagram anche il link per lo Zoom meeting.
Volete sapere di più sul film?!
Nella notte tra il 20 e il 21 luglio 2001 a Genova - dove si svolgeva il G8 - ci fu, secondo Amnesty International, "la più grande sospensione dei diritti democratici in un paese occidentale dopo la Seconda Guerra Mondiale". Infatti, 300 poliziotti e 70 agenti di un reparto speciale fanno irruzione nella scuola "Diaz", dove hanno trovato riparo 93 giovani provenienti da diverse nazioni e impegnati in una protesta pacifica contro il summit. Il violento attacco delle forze dell'ordine sui manifestanti disarmati e semiaddormentati segnerà una delle pagine più tragiche e tristi della recente Storia del nostro Paese.
Girato in gran parte a Bucarest e dintorni, prodotto e distribuito dalla Fandango, scritto da Vicari con Laura Paolucci, "Diaz" è costato 7-8 milioni di euro. Si tratta di un film necessario e coraggioso che invita a "non ripulire questo sangue". 
Volere sapere di più su questa avvincente vicenda?? 
Questa è l'occasione giusta! Munitevi di popcorn e non mancate!! 
*************************************************************************************
Hello our dear Erasmus! 
Are you ready for next film?? 
Do you like cinema? Would you like to deepen your knowledge of Italian language and and culture? Or you just fancy a nice film?  
You can do that with your international friends! 
Our last film for this Wednesday is "Diaz"!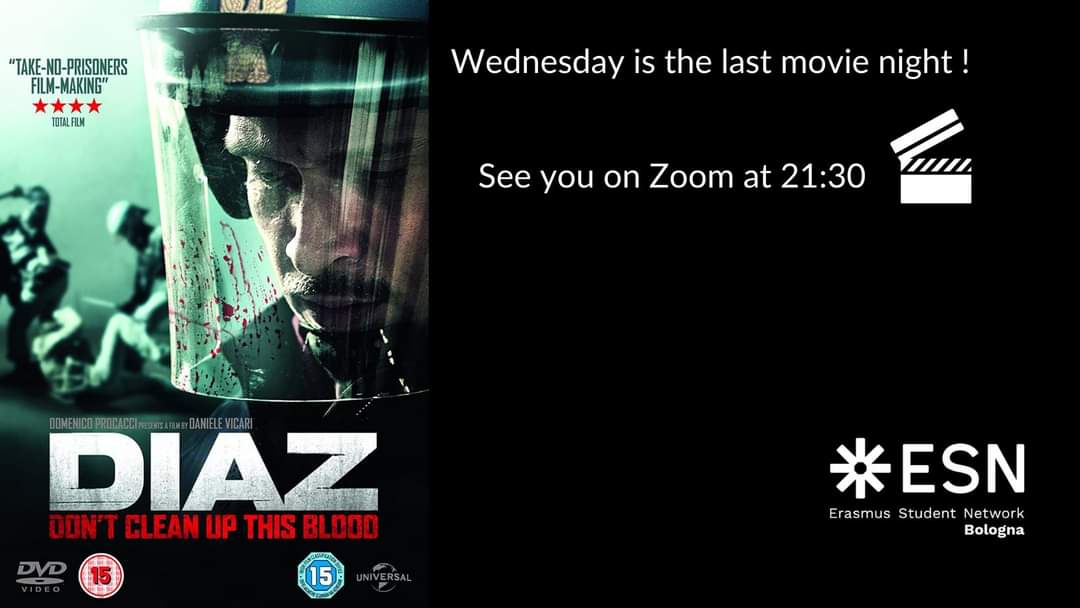 Some info:
- Wednesday 5 May at 9:30 PM?
- You'll need a Zoom and a Netflix account ?
- Fill in the form (not later than 4PM of Wednesday) here?
-We'll send the link for the Netflix party on Zoom. And, on Wednesday, you'll find in our bio on instagram also the link for the Zoom meeting
Our film in a nutshell: 
On the night between 20 and 21 July 2001 in Genova - where the G8 was held - there was, according to Amnesty International, "the largest suspension of democratic rights in a western country after the Second World War". In fact, 300 policemen and 70 agents from a special department raid the "Diaz" school, where 93 young people from different nations have found shelter and engaged in a peaceful protest against the summit. This violent attack on unarmed and semi-asleep demonstrators is one of the most tragic and sad pages in the recent history of our country.
Shot mostly in Bucharest and surroundings, produced and distributed by Fandango, written by Vicari with Laura Paolucci, "Diaz" cost 7-8 million euros. It is a necessary and courageous film that invites not to repeat these episodes of violence
Don't miss it!!! See you Wednesday (with popcorn)! 
Date:
05/05/2021 -

21:30

to

23:30