Cari Erasmus,
Non avete piani per questa domenica a Bologna? 
Abbiamo organizzato qualcosa di speciale per voi e siamo lieti di invitarvi alla prima edizione del...

CITY GAME con ESN Bologna!
Non perdere l'occasione di conoscere Bologna scoprendo alcune delle sue curiosità attraverso indovinelli, prove e giochi!
Quando? Domenica 13 febbraio, nel pomeriggio.
Prezzo? GRATIS!
Per partecipare è sufficiente creare una squadra di 3 persone, avere l'ESNcard e compilare il seguente 
FORM
.
Una mail di conferma con le istruzioni per giocare vi verrà inviata pochi giorni prima.
Stay angry, stay foolish but most of all.. be fast: il gruppo più veloce sarà premiato con un premio speciale...
1° premio: Posto garantito per Spring Break ESN 2022 in Croazia a metà prezzo (75€ al posto di 150€!) 2° premio: sconto di 40€ per un viaggio a scelta 3° premio: sconto di 20€ per un viaggio a scelta
Come stabilito dal governo italiano a causa dell'emergenza epidemiologica per poter partecipare a questa attività è necessario essere in possesso del GREEN PASS, per maggiori informazioni visita il sito: https://www.esnbologna.org/?q=GreenPass
Per informazioni:
*************************************************************************************
Dear Erasmus,
You have no plans for this Sunday? Or would you like to spend an alternative and funny day with your friends discovering Bologna?
We have organized something special for you and we are glad to invite you the first edition of the:
 
ESN Bologna CITY GAME!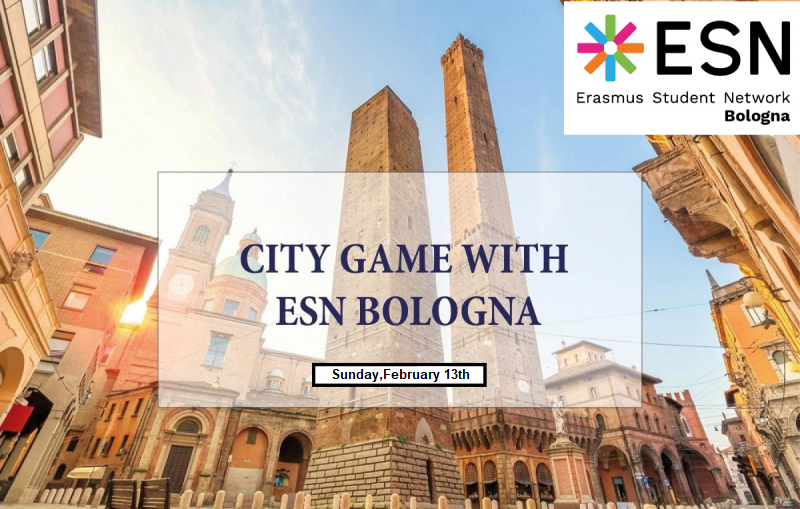 Get to know Bologna discovering some of its curiosities through riddles, tasks and games! 
When? 

Sunday, February 13

th

 in the afternoon

.

Price? 

GRATIS!
In order to participate you should just create a 3 people team, have the ESNcard and fill in the following 
FORM
.
A confirmation with further instructions will be sent in an email few days before the game.
Stay angry, stay foolish but most of all.. be fast!  The fastest group will be awarded with a special prize...
1st place: half prize seat and place guaranteed for the Spring Break ESN 2022 in Croatia (75€ instead of 150€!) 2nd place: discount of 40€ for a trip to choose 3rd place: discount of 20€ for a trip to choose
As established by the Italian government due to the epidemiological emergency in order to participate in this activity it is necessary to be in possession of the GREEN PASS, for more information visit the website: https://www.esnbologna.org/?q=GreenPass
For information:
Date:
13/02/2022 -

14:30

to

20:00
Contact details:
Monica +39 3331008422 monica@esnbologna.org Billi +39 3311970884 billi@esnbologna.org
An ESNcard of this section required.