Calendario & Risultati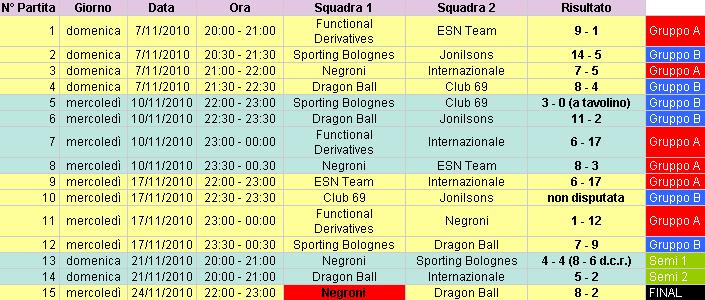 Classifiche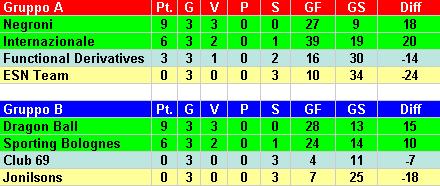 Ammoniti e Squalificati

Cannonieri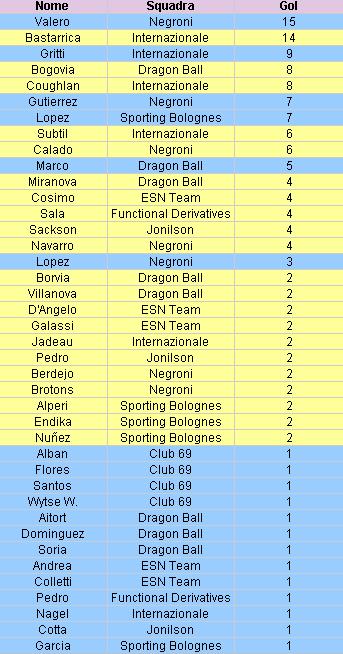 Tabellone Finale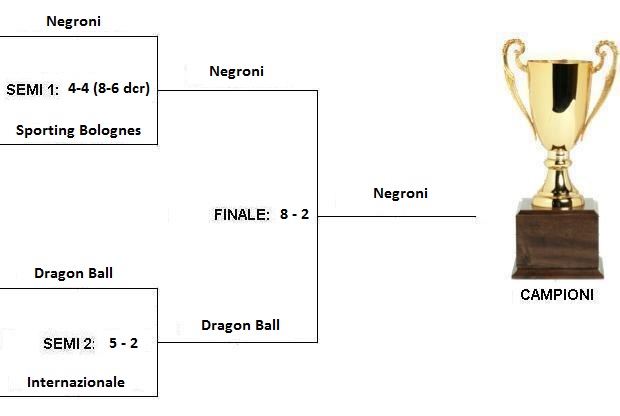 Regolamento 5vs5 ESN Cup
English version below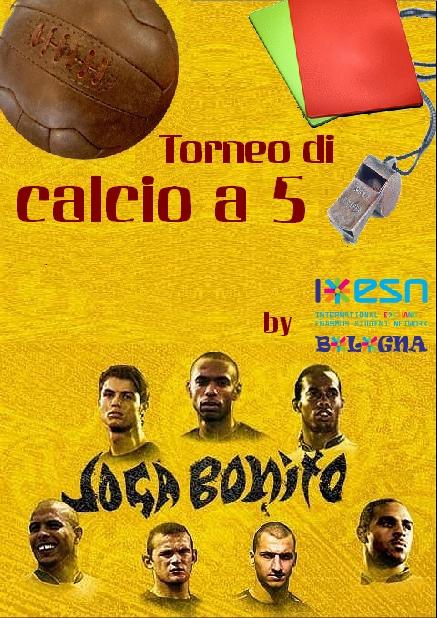 Anche quest'anno, come ogni anno, torna il mitico
TORNEO DI CALCIO A 5
targato
ESN 
FINANZIATO DALL'UNIVERSITA' DI BOLOGNA
!
Sarà un torneo vero, distribuito nell'arco di tutto novembre, con 8 squadre, divise in due gironi da 4, pronte a battersi per conquistare il titolo d'apertura della stagione erasmus 2010/2011.
Siete pronti a scendere in campo? La sfida sta per iniziare...
Struttura del torneo
Il torneo prevede 8 squadre, divise in due gironi da 4.
Le squadre di ogni girone si affronteranno una volta sola, per un totale di tre partite a testa.
Le prime due squadre classificate per ogni girone si qualificano alle semifinali.
Ogni squadra disputerà, quindi, almeno 3 partite garantite.
Iscrizione
Ogni squadra deve iscrivere almeno 7 elementi (e non più di 9), per poter gestire eventuali indisponibilità.
Potete scegliere una squadra legata ad una particolare regione geografica, oppure mischiare tutto!
ESN supporta una parte delle spese: il costo dell'iscrizione è di soli 90€ a squadra!
Tutti i giocatori devono essere tesserati ESN!
NON HAI UNA SQUADRA?!? NON E' UN PROBLEMA! COMPILA IL FORM UGUALMENTE, SAREMO NOI A CERCARE UNA SQUADRA PER TE!
Campo e calendario
Le partite si disputeranno sui campi del dopolavoro ferroviario, dopo il ponte di via Stalingrado.
Il campo è dotato di docce calde comprese nel prezzo.
Le partite dureranno 50 minuti.
Le prime partite si giocheranno dalle 22 alle 24 (a parte la primissima che sarà dalle 20 alle 22), nei giorni di domenica e mercoledì.
Il torneo durerà alcune settimane, si comincia il 7 novembre (inizio ore 20.00)!
Le altre partite dei gironi saranno il 10 e 17 novembre.
Indirizzo:
Campo "Dopo Lavoro Ferroviario"
Via Serlio Sebastiano, 25/2
Come arrivare:
Da porta Mascarella, prendere via Stalingrado camminando sul lato sinistro del ponte. Alla fine del ponte, prima del LIDL c'è una strada che porta ai campi.
Col Bus: scendete alla fermata "Sacro Cuore" con il bus 11 o 27, vi troverete via Serlio di fronte a voi. Camminate fino al DLF.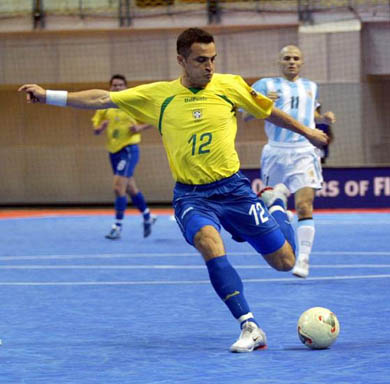 Regolamento
Il torneo sarà 5vs5, per il regolamento fanno fede le regole del calcio a 5 della FIGC, con le correzioni dovute alla scarsa formalità dell'evento.
Prima delle partite verrà fatto il riconoscimento con carta ESN e documento di identità.
Ogni partita sarà arbitrata da un arbitro esterno (incluso nella quota di iscrizione!). Non sparate all'arbitro! Lui non sparerà a voi!
Modalità di iscrizione
Registrate per prima cosa la vostra squadra
QUI
Riceverete una mail di conferma poco dopo che vi dirà dove e quando pagare la quota d'iscrizione.
Ricordate che stiamo cercando solo 8 squadre, iscrivete la vostra squadra al più presto!
Cosa si vince?
SORPRESA!
FAQ
E' possibile modificare la lista dei giocatori dopo l'iscrizione? Sì, finché non si è iscritta l'ultima squadra.
E' possibile modificare il calendario? NO. Le partite sono già prenotate, e cambiare alcune date è impossibile.
Cosa aspettate? E' già il momento del calcio mercato!
Per informazioni:
**********************************************************************************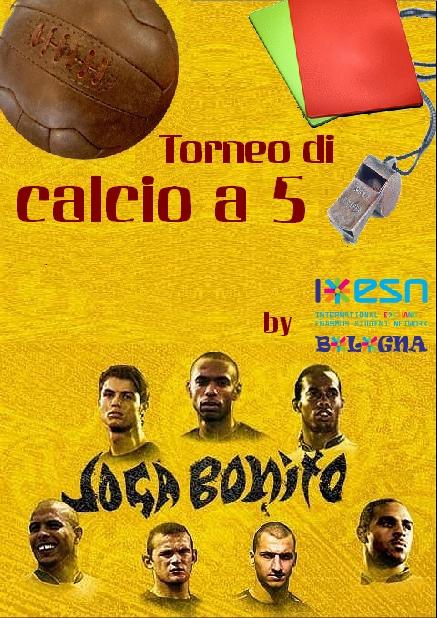 Also this year, as every year, the mythical FOOTBALL TOURNAMENT (5 vs 5) made by ESN comes back!
It will be a real tournament, distributed throughout November, with 8 teams, divided in two groups of 4 teams, ready to fight to win the opening title of the erasmus season 2010/2011.
Are you ready to take the field? The challenge is gonna start...
Tournament structure
8 teams, divided in two groups of 4 teams.
Each team will play 3 single matches against its group rivals.
The top 2 ranked teams per each group are qualified to the semifinals. Therefore each team will play at least 3 matches.
Enrolment
Each team must register at least 7 players (and not more than 9!), in order to be able to deal with unavailability problems.
You can create a team based on a specific geographical area, or just mix it up!
ESN is supporting part of the bills: enrolment fee is 90€ per team only!
Every player must be ESN card holder!
DON'T YOU HAVE A TEAM? IT DOESN'T MATTER! FILL IN THE FORM ANYWAY, WE  WILL LOOK FOR A TEAM FOR YOU!
Sport ground and calendar
ESN Cup matches will take place on a indoor football 5vs5 ground, located in the "dopolavoro ferroviario", after the via Stalingrado bridge.
Showers included in the registration fee.
Match length is 50 minutes.
First matches will take place from 10pm to 00.00am (except for the very first one that will be from 8pm till 10pm), on Sunday and Wednesday!
The tournament will last some weeks, we are starting on November 7th (start at 8:00pm)!
The other matches of the groups are gonna be on November 10th and 17th
Address:
Campo "Dopo Lavoro Ferroviario"
Via Serlio Sebastiano, 25/2
How to come:
From porta Mascarella, go to via Stalingrado walking on the left side of the bridge. At the end of the bridge, before LIDL there's a street that leads to the fields.
By Bus: go down at "Sacro Cuore" stop with bus 11 or 27, you'll find via Serlio in frond of you. Walk till DLF.
Rules
The tournament will be 5vs5,about the regulation we will follow the 5 football rules of FIGC, adapted to the lack of formality of the event.
Before every matches ESN will check players identity.
Please bring with you ESN card and ID document.
Every match will have an external referee (included in the fee).
Please don't shoot the referee! He won't shoot you!
How to enrol in
First of all register your team
HERE
You will receive a confirmation email telling you when and where to pay the fee.
Remember, we are looking for 8 teams only! Enrol in your team as soon as possible!
What do you win?
SURPRISE!
FAQ
Is it possible to change the list of players after registration? Yes, but before that all teams are enrolled in. Is it possible to modify the calendar? NO, the dates are already booked.
So what are you waiting for? It's already time to buy (or sell) your players!!!
For information: