Ciao a tutti Erasmus! ?
Pronti per il prossimo film??
Vi piace il cinema? Vorreste approfondire la vostra conoscenza della lingua e della cultura italiana in compagnia di tutti i vostri amici internazionali? O più semplicemente avete voglia di vedere un bel film?
Questo mercoledì vi proporremo "Il Divo"!
- Mercoledì 28 Aprile alle 21:30
- Avrete bisogno di un account Zoom e Netflix!
- Compilate il form (non oltre le ore 16.00 del 28 aprile) che trovate qui: 
https://docs.google.com/forms/d/e/1FAIpQLSfqYc2v0wWXNqVmBB4kV_Z7ofL8XBi6Qh4Ov9wrPMabLeMo2w/viewform

Vi invieremo il link del Netflix party su Zoom.
Il giorno dell'evento renderemo disponibile in bio (su instagram) anche il link per lo Zoom meeting
Volete sapere di più sul film?!
Con la regia di Paolo Sorrentino e Premiato al festival di Cannes nel 2008, Il Divo ritrae Giulio Andreotti, pronto per il suo settimo governo nell'Italia dei primi anni '90. Il film biografico narra la parabola del senatore democristiano negli anni della fine della prima repubblica: un uomo apparentemente distaccato e privo di qualsiasi emozione che, tra morti misteriose e Tangentopoli, arriva fino al processo per collusione con la mafia dalla quale viene poi assolto.
Volere sapere di più sulla figura di Giulio Andreotti?? 
Allora non mancate! Ci vediamo mercoledì!
*************************************************************************************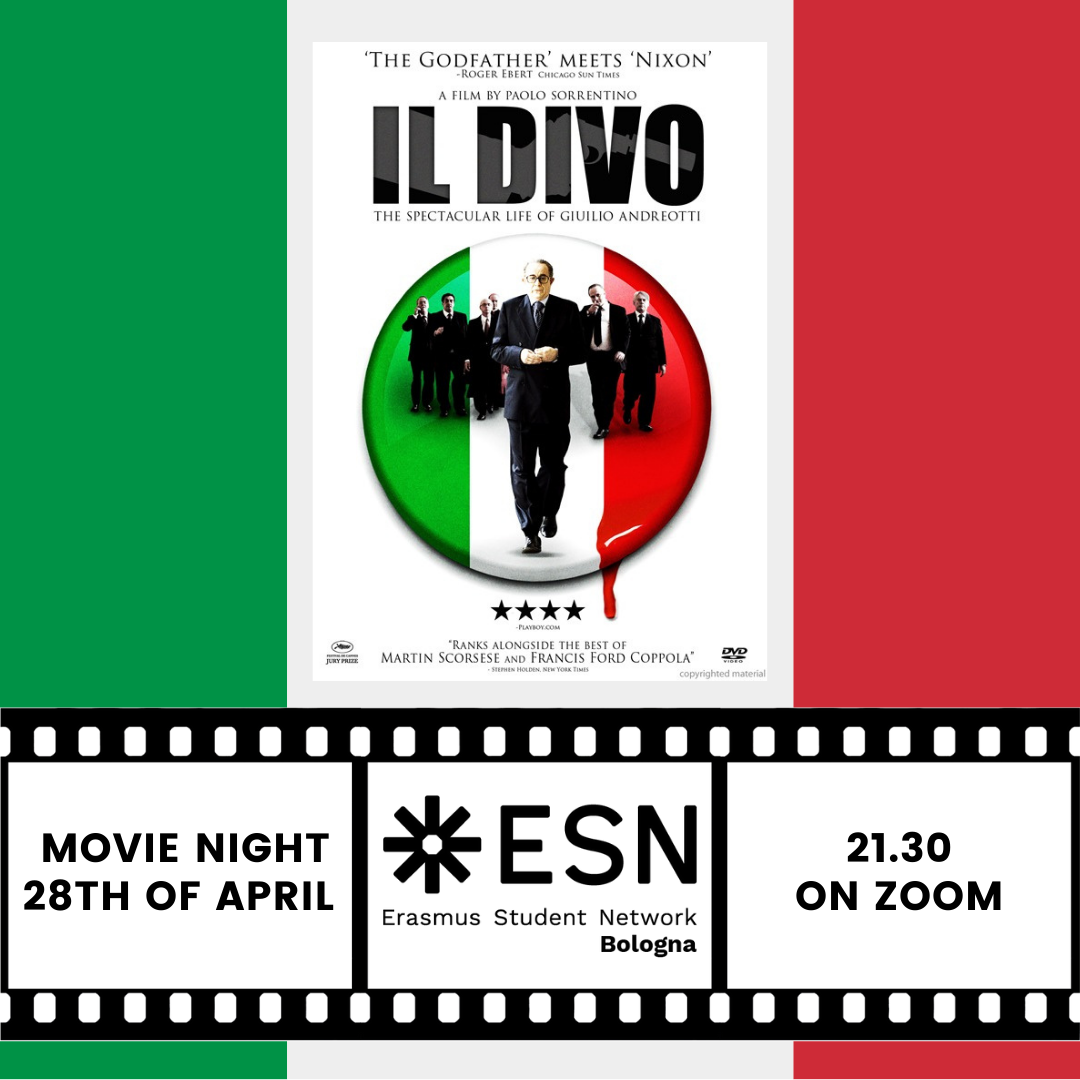 Hello our dear Erasmus! ?
Are you ready for next film??
Do you like cinema? Would you like to deepen your knowledge of Italian language and and culture? Or you just fancy a nice film?  
You can do that with your international friends! 
Our film for this Wednesday is "Il Divo"!
- Wednesday, April 28th at 9:30 P.M.
- You'll need a Zoom and a Netflix account!
- Fill in the form (not later than 4PM of Wednesday) here: 
https://docs.google.com/forms/d/e/1FAIpQLSfqYc2v0wWXNqVmBB4kV_Z7ofL8XBi6Qh4Ov9wrPMabLeMo2w/viewform
to participate and we'll send the link for the Netflix party on Zoom.
On Wednesday, you'll find in our bio (on Instagram) also the link for the Zoom meeting
Our film in a nutshell: 
Directed by Paolo Sorrentino and awarded at the Cannes Festival in 2008, Il Divo is the witty portrait of Giulio Andreotti in the earlier nineties, ready for his seventh government in Italy. This biographic film recounts the life of the Christian Democrat senator in the years of the First Republic: an apparently detached and unemotional man who, between deaths and mysterious Tangetopoli (bribe scandal), gets to the process for collusion with the mafia, for which he will be absolved. 
Do not miss this film about a cornerstone of Italian dark political history!
Date:
28/04/2021 -

21:30

to

23:30