Cari erasmus,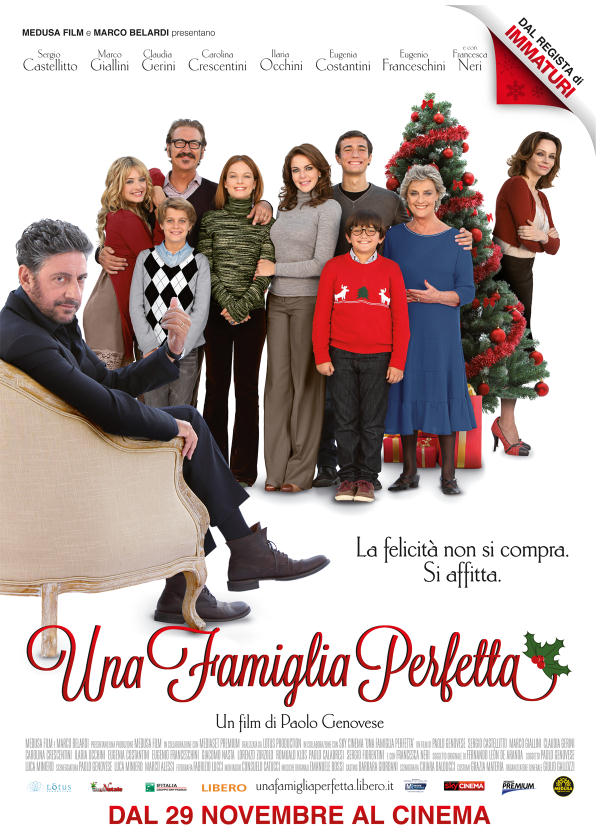 Martedì 9 dicembre
ritorna il
Cineforum
organizzato da
ESN
!
Vi piace il cinema? Vorreste approfondire la vostra conoscenza della lingua e della cultura italiane, gratuitamente e in compagnia di tutti i vostri amici internazionali? O più semplicemente avete voglia di vedere un bel film?
Perfetto, allora tenetevi liberi per martedì 9 dicembre! ESN vi offre un percorso attraverso alcuni classici e non, del nostro cinema, tra generi e autori che hanno reso celebre l'Italia nel mondo!
L'ingresso è gratuito e riservato ai soli possessori di tessera ESN. Quindi non dimenticate di portarla!
L'appuntamento è alle ore 21:00 in Piazza Antonio Scaravilli, alla Facoltà di economia, fuori dall'aula 3.
Le proiezioni saranno sempre in italiano con sottotitoli in italiano.
L'undicesimo film della serie sarà "UNA FAMIGLIA PERFETTA", una commedia natalizia semplice e divertente, basata sulla pellicola spagnola "Familia" (1996) di Fernando León de Aranoa, inedito in Italia. Mancano due settimane a Natale e l'aria di festa si avvicina!!! Quale modo migliore per prepararsi se non quello di guardare un bel film insieme a noi?
In una villa di campagna nei pressi di Todi (Perugia), un cinquantenne misterioso, ricco e solo, decide di affittare una compagnia di attori per far interpretare loro la famiglia che non ha mai avuto in occasione delle feste natalizie. Leone, il singolare padrone di casa, adesso ha una moglie, un fratello, una cognata, tre figli e una mamma, ma la finzione e la realtà si mescoleranno fino al sopraggiungere di un personaggio imprevisto dal copione che cambierà per sempre la sua vita.
Comincia bene il film, rappresentando una situazione di gioia natalizia presto ribaltata dalla feroce entrata in scena dello scorbutico e dispotico padrone di casa. Il punto di forza della pellicola e la sua ragione di essere è nei paradossali attriti tra il "papà" e gli attori. Sempre in bilico tra finzione e realtà, Leone vede scorrere davanti ai suoi occhi il Natale (e la vita) che avrebbe potuto avere nel passato e che, forse, riuscirà ad avere nel suo immediato futuro.
*************************************************************************************
Dear Erasmus,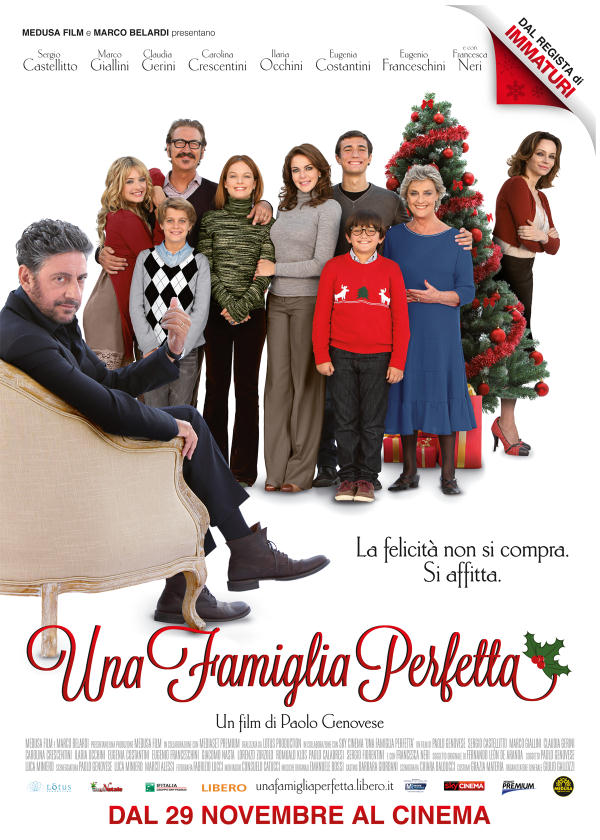 On
Tuesday, December 7
th
, the
ESN Cineforum takes off
!
Do you like movies? Would you like to deepen your knowledge of the Italian language and culture, while spending an informal evening with ESN and all your international friends, completely free of charge? Or do you simply want to enjoy a nice movie?
Great, then keep your evening free of commitments on Tuesday the 7th! ESN offers you a journey throughout some cornerstones of Italian cinema, across different genres and authors that made our country famous in the world!
The entrance is free of charge and restricted to the owners of the ESN card: don't forget to bring it with you!
We meet at 9:00 p.m. in Piazza Antonio Scaravilli, at the Economy Faculty, right outside of the Aula 3.
The screenings will always be in Italian with Italian subtitles.
The eleventh film in the series will be "
UNA FAMIGLIA PERFETTA
" (
A perfect family
), a simple and fun holiday comedy, based on the Spanish film "Familia" (1996) by Fernando León de Aranoa, unpublished in Italy. We have two weeks at Christmas and the air of celebration is approaching !!! What better way to prepare than to watch a good movie with us?
In a country house near Todi (Perugia), a mysterious fifty, rich and alone, decide to rent a company of actors to interpret their family who has never had on the occasion of the Christmas holidays. Leone, the singular landlord, now has a wife, a brother, a sister, a mother and three children, but the fiction and reality will mix until the arrival of an unexpected character from the script that will change his life forever.
The film starts well, representing a situation of Christmas joy soon overturned by the fierce arrival on the scene of the crabby and despotic landlord. The strength of the film and its reason for being is in the paradoxical frictions between the "daddy" and the actors. Always hovering between fiction and reality, Leone sees scroll before his eyes the Christmas (and the life) that could have had in the past and that, perhaps, be able to have in his immediate future.
See you there!
For information: