Cari erasmus,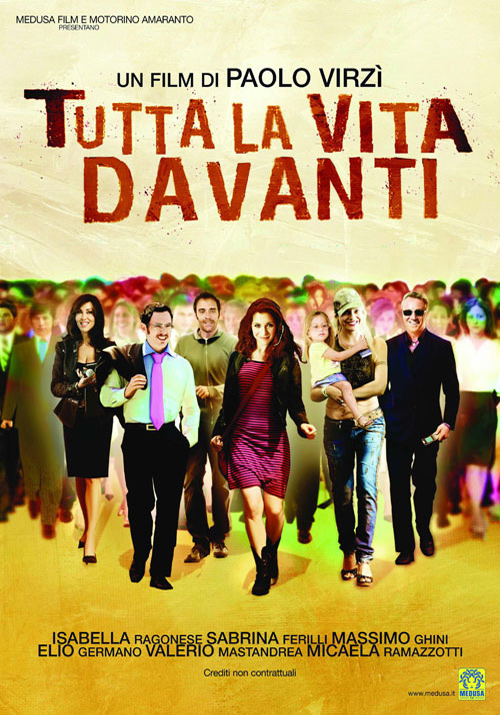 Martedì 28 aprile
ritorna il
Cineforum
organizzato da
ESN
!
Vi piace il cinema? Vorreste approfondire la vostra conoscenza della lingua e della cultura italiane, gratuitamente e in compagnia di tutti i vostri amici internazionali? O più semplicemente avete voglia di vedere un bel film?
Perfetto, allora tenetevi liberi per martedì 28 aprile! ESN vi offre un percorso attraverso alcuni classici e non, del nostro cinema, tra generi e autori che hanno reso celebre l'Italia nel mondo!
L'ingresso è GRATUITO e riservato ai soli possessori di tessera ESN. Quindi non dimenticate di portarla!
L'appuntamento è alle ore 21:00 (PUNTUALI MI RACCOMANDO) in Piazza Antonino Scaravilli, alla Facoltà di economia, fuori dall'aula 3.
Le proiezioni saranno sempre in italiano con sottotitoli in italiano.
Il 25° film della serie sarà "TUTTA LA VITA DAVANTI", pellicola grottesca del famoso regista livornese Paolo Virzì, datata 2008. Il 1° maggio in Italia, così come in molti Paesi del mondo, si celebra la Festa del Lavoro e anche noi vogliamo rendere omaggio a tutti i lavoratori con questo film ormai diventato un cult.
In un atmosfera onirica sulle note dei Beach Boys, veniamo introdotti nella favola nera di Marta, 24 anni, siciliana, trapiantata a Roma, neolaureata con lode, abbraccio accademico e pubblicazione della tesi in filosofia teoretica. Umile, curiosa e un poco ingenua si vede chiudere in faccia le porte del mondo accademico ed editoriale, per ritrovarsi a essere "scelta" come baby-sitter dalla figlia della sbandata e fragile ragazza-madre Sonia. È proprio lei a introdurla nel call center della Multiple, azienda (sita in una periferia romana spaventosamente deserta e isolata dal resto del mondo come fosse un reality), specializzata nella vendita di un apparecchio di depurazione dell'acqua apparentemente miracoloso. Da qui inizia il viaggio di Marta in un mondo alieno, quello dei tanti giovani, carini e "precariamente occupati" italiani.
Virzì costruisce con questo film un mondo plasticamente sorridente e spaventato, in cui vittime e carnefici (figli di una società malata, ma forse non ancora in fase terminale), sono accomunati da una stessa ansia per il futuro che si tramuta in folle disperazione. Non c'è scampo per nessuno all'interno di queste logiche di sfruttamento, e attraverso gli occhi di Marta, noi, possiamo vedere l'inferno del precariato del mondo moderno. È un'Italia dolce e amara quella di Tutta la vita davanti, che commuove e angoscia lasciandoci con un groppo in gola.
Vi aspettiamo!!
Per informazioni:
*************************************************************************************
Dear Erasmus,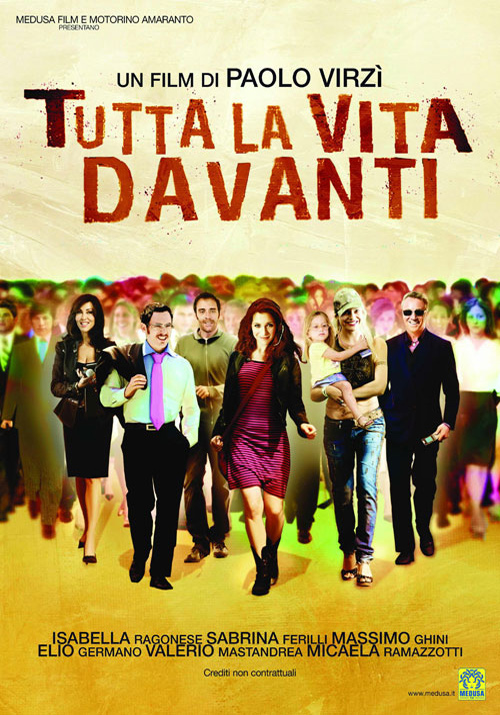 On
Tuesday, April 28
th
, the
ESN Cineforum takes off
!
Do you like movies? Would you like to deepen your knowledge of the Italian language and culture, while spending an informal evening with ESN and all your international friends, completely free of charge? Or do you simply want to enjoy a nice movie?
Great, then keep your evening free of commitments on Tuesday the 28th! ESN offers you a journey throughout some cornerstones of Italian cinema, across different genres and authors that made our country famous in the world!
The entrance is FREE OF CHARGE and restricted to the owners of the ESN card: don't forget to bring it with you!
We meet at 9:00 p.m. (ON TIME PLEASE) in Piazza Antonino Scaravilli, at the Economy Faculty, right outside of the Aula 3.
The screenings will always be in Italian with Italian subtitles.
The 25th film of the series will be "TUTTA LA VITA DAVANTI (Your whole life ahead of you), by the famous director from Livorno, Paolo Virzì, filmed in 2008. The 1st of May in Italy, as well as in many other countries, we celebrate the Workers' Day and we have chosen this famous movie as a tribute to all the workers made.
In a dreamlike atmosphere with the Beach Boys as soundtrack, you get involved in the noir story of Marta, a 24-year-old girl from Sicily living in Rome, just graduated in theorethical philosophy. She is humble, curiose and innocent, and she is not accepted in the academic world. Besides, she becomes the baby-sitter of the daughter of a freaky and fragile girl called Sonia. She is the one who introduces her to the call centre of Multiple, a company selling an apparently extraordinary machine for depurating water. Here starts the trip of Marta, one of the many precariously employed" young in Italy.
Virzì in this movie creates a world where victims and murderers have the same anxiety for their future that turns into desperation for work exploitment and precariuosness. Italy in Tutta la vita davanti is a bitter sweet Italy that you won't forget.
See you there!
For information: