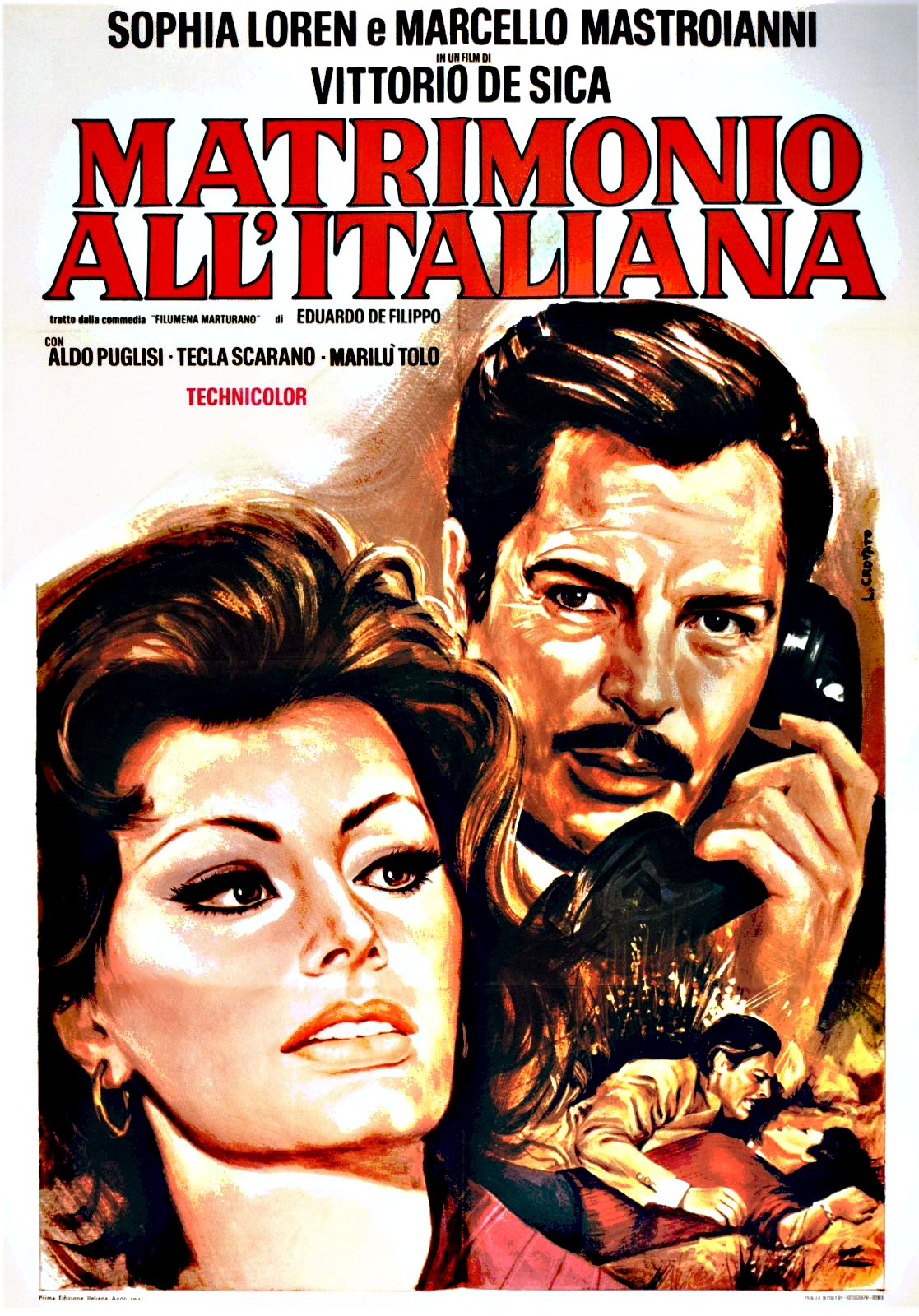 Cari erasmus,
ritorna il Cineforum organizzato da ESN!
Vi piace il cinema? Vorreste approfondire la vostra conoscenza della lingua e della cultura italiane, gratuitamente e in compagnia di tutti i vostri amici internazionali? O più semplicemente avete voglia di vedere un bel film?
Perfetto, allora tenetevi liberi per martedì 10 marzo! ESN vi offre un percorso attraverso alcuni classici e non, del nostro cinema, tra generi e autori che hanno reso celebre l'Italia nel mondo!
L'ingresso è GRATUITO e riservato ai soli possessori di tessera ESN. Quindi non dimenticate di portarla!
L'appuntamento è alle ore 21:00 in Piazza Antonino Scaravilli, alla Facoltà di economia, fuori dall'aula 3.
Le proiezioni saranno sempre in italiano con sottotitoli in italiano.
Il 19° film della serie sarà "MATRIMONIO ALL'ITALIANA", un classico del cinema italiano e internazionale, diretto da Vittorio De Sica, con protagonisti la coppia di attori italiani più famosa nel mondo; Sophia Loren e Marcello Mastroianni. La pellicola fu candidata ai Premi Oscar per il Miglior Film Straniero e per la Miglior Attrice Protagonista, e proprio attraverso l'interpretazione magistrale della nostra Sophia vogliamo dedicare questo film a tutte le donne. BUON 8 MARZO :)
Filumena Marturano è una giovanissima prostituta e Don Domenico Soriano è un signorotto benestante. I due si incontrano durante un bombardamento in una casa di tolleranza e l'uomo, intenerito e affascinato, fa di lei la sua amante per anni. Ma Filumena non si accontenta e, un giorno, finge la morte per farsi sposare in extremis. Scoperta la beffa, stupisce nuovamente il consorte informandolo di essere la madre di tre ragazzi, uno dei quali è figlio suo, ma si guarda bene dal rivelargli quale. Mentre cerca di scoprirlo, Domenico si accorge di essere, in verità, padre felice di tutti e tre i figli.
Questa pellicola che si basa su un testo teatrale di Eduardo De Filippo "Filumena Marturano" (un dramma che commuove nella Napoli dell'immediato dopoguerra, nonostante il lieto fine), celebra ancora una volta il successo dell'accoppiata Loren-Mastroianni, che con le loro superbe recitazioni ci regalano passioni senza tempo, per un film d'altri tempi.
Vi aspettiamo!!
Per informazioni:
*************************************************************************************
Hi!
The
ESN Cineforum takes off
!
Do you like movies? Would you like to deepen your knowledge of the Italian language and culture, while spending an informal evening with ESN and all your international friends, completely free of charge? Or do you simply want to enjoy a nice movie?
Great, then keep your evening free of commitments on Tuesday the 10th! ESN offers you a journey throughout some cornerstones of Italian cinema, across different genres and authors that made our country famous in the world!
The entrance is FREE OF CHARGE and restricted to the owners of the ESN card: don't forget to bring it with you!
We meet at 9:00 p.m. in Piazza Antonino Scaravilli, at the Economy Faculty, right outside of the Aula 3.
The screenings will always be in Italian with Italian subtitles.
The 19th film in the series will be "MATRIMONIO ALL'ITALIANA" (Marriage Italian Style), a classic Italian and international movie, directed by Vittorio De Sica, and the main characters are the most famous Italian couple of actors: Sophia Loren and Marcello Mastroianni. The movie was nominated for Oscars as Best Foreign Language Film and as Best Actress, and exactly for the masterful performance of our Sophia, we want to dedicate this movie to all women. HAVE A NICE 8 MARCH :)
Filumena Marturano is a young prostitute and Don Domenico Soriano is a noble wealthy man. The two ones meet each other during a bombardment on a brothel and the man, got soften and charmed, decides to start a relationship with the woman, who becomes his lover for years. However, Filumena does not please and, one day, pretends to die in order to be married by him. Disclosed the joke, she astonishes the partner one more time, informing him to be the mother of three guys, one of them is his son, but she doesn't tell him which one. While he tries to find him out, Domenico understands to be indeed a happy father of all of them.
This movie is based on a theatrical scripture made by Eduardo De Filippo and called "Filumena Marturano" (a moving drama seated in Naples immediately after the war although the happy conclusion), and it celebrates the success of the couple Loren-Mastroianni one more time. Their superb performances give us passions timeless, even if it is a movie of other times.
See you there!!
For information: