Ciao a tutti!
Avete provato il vero frozen yogurt artigianale a
Yogurtlandia Bologna
, con i nostri vantaggiosi sconti?
Vorresti sapere come si fa a preparare uno yogurt?
Hai voglia di partecipare ad una degustazione gratuita?
L'offerta è valida solo per i più veloci che si iscriveranno in quanto i posti sono limitati!
QUANDO?
Domenica 11/09 nel pomeriggio
DOVE?
Ci troveremo direttamente alla yogurteria.
QUANTO COSTA?
Degustazione GRATUITA!
COME?
Alla degustazione potrai gustare il vero yogurt gelato fatto con yogurt Mila di altissima qualità, al quale potrai aggiungere un vastissimo assortimento di frutta fresca, creme (nutella, cioccolata bianca, pistacchio, etc.) e granelline (cereali, nocciole, meringhe, etc.)
Per informazioni:
*************************************************************************************
Hi guys!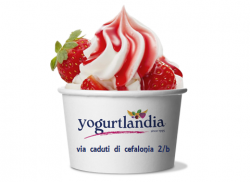 Have you tried the frozen yogurt @
Yogurtlandia Bologna
, with our great discounts?
Would you like to know how a yogurt is prepared?
Do you want to a free tasting of yogurts?
The number of places for this event is limited, so hurry up and sign up in the form!
WHEN?
Sunday 11/09 in the afternoon
WHERE?
The meeting point will be at Yogurtlandia in the city center.
HOW?
You will try the real frozen yogurt prepared with high quality yogurt Mila. On top of it, you can add a wide variety of fresh fruits, cremes and other topping ingredients.
Address:
Via Caduti di Cefalonia, 2
Italy
Contact details:
Domenico +39 3285572353 domenico@esnbologna.org Leonardo +39 3341660380 leonardo@esnbologna.org Riccardo +39 3807832817 riccardo.m@esnbologna.org
An ESNcard of this section required.