Ciao Erasmussssss!
Il 
nostro ufficio sarà aperto in via del tutto straordinaria questo martedì 5 marzo 
alle ore 20:00
 in Via delle Belle Arti 50 (
mappa
).
La fee è di 

soli 163€

 ed include:
Viaggio in bus A/R Bologna-Lubiana-Maribor-Budapest-Bratislava
3 notti in hotel con colazione: una a Maribor e due a Budapest
5 tour della città guidati: Lubiana, Maribor, 2 a Budapest, Bratislava
3 feste
Pub-Crawl a Maribor (7 bar!)
Sorpresa alcolica by ESN Bologna
Terme Szechenyi [OPZIONALE 17,00€].
I 
posti sono limitati
, per iscrivervi dovete 
compilare il form QUI
Cosa aspetti?
*************************************************************************************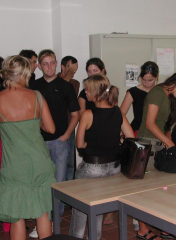 Hello Erasmussssss!
Our office will be open this Tuesday, March 5

th

 
at 8:00 p.m.
 in Via delle Belle Arti 50 (
map
).
The fee is 

only 163€

 and it includes:
Transportation (by bus): Bologna-Ljubljana-Maribor-Budapest-Bratislava
3 nights in hotel with breakfast: one in Maribor and two in Budapest
5 guided city tours: Ljubljana, Maribor, 2 in Budapest, Bratislava
3 parties
Pub-Crawl Maribor (7 bars!)
Alcoholic surprise by ESN Bologna
Thermal baths 
Szechenyi 
[OPTIONAL 17€]
Places are limited
, 
to sign up fill this online FORM
What are you waiting for? ;)
Date:
05/03/2019 -

20:00

to

20:30
Price:
163€ + 17€ for thermal baths (optional)
An ESNcard of this section required.