Cari erasmus,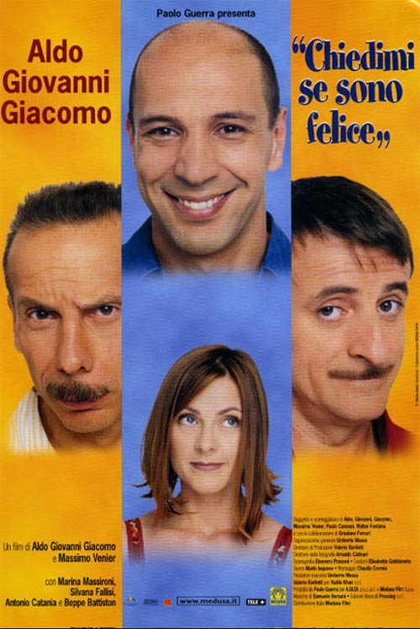 Martedì 21 ottobre
ritorna il
Cineforum
organizzato da
ESN
!
Vi piace il cinema? Vorreste approfondire la vostra conoscenza della lingua e della cultura italiane, gratuitamente e in compagnia di tutti i vostri amici internazionali? O più semplicemente avete voglia di vedere un bel film?
Perfetto, allora tenetevi liberi per martedì 21 ottobre! ESN vi offre un percorso attraverso alcuni classici e non, del nostro cinema, tra generi e autori che hanno reso celebre l'Italia nel mondo!
L'ingresso è gratuito e riservato ai soli possessori di tessera ESN. Quindi non dimenticate di portarla!
L'appuntamento è alle ore 21:00 in Piazza Antonio Scaravilli, alla Facoltà di economia, fuori dall'aula 3.
Le proiezioni saranno sempre in italiano con sottotitoli in italiano.
Il quarto film della serie sarà "CHIEDIMI SE SONO FELICE", 3a pellicola del famoso trio comico "Aldo, Giovanni e Giacomo" che ebbe un grandissimo successo di pubblico nel 2000, risultando uno dei maggiori incassi della storia del cinema italiano. Così in preparazione al viaggio di Milano e dopo aver omaggiato Bologna, Napoli e Firenze è arrivato finalmente il turno della città simbolo del Nord Italia.
Tre amici (uno doppiatore di colpi di tosse, l'altro comparsa alla Scala e il terzo statua vivente nei grandi magazzini) cercano, senza successo, di realizzare il loro sogno: mettere in scena il "Cyrano de Bergerac" di E. Rostand. Ma Giovanni, innamoratosi di Marina, una hostess, se la vede "rubare" quasi per errore da Giacomo. A distanza di 3 anni, Giacomo (che ora vive insieme a Marina) va a cercare Giovanni, il quale non l'ha mai perdonato per il torto subìto, per convincerlo a incontrarsi un'ultima volta con Aldo, quasi morente, con cui aveva litigato incolpandolo di essere il complice di Giacomo. Partono così per un viaggio in Sicilia sperando di rappacificarsi e tornare amici come un tempo.
Lontana dagli stereotipi comuni di città grigia, triste e "modaiola", Milano diventa il set di questa commedia semplice e scorrevole immersa in un'atmosfera un po' surreale, senza mai essere volgare o troppo ripetitiva, mettendo come tema centrale l'amicizia sincera tra i 3 personaggi.
Vi aspettiamo!!
Per informazioni:
*************************************************************************************
Dear Erasmus,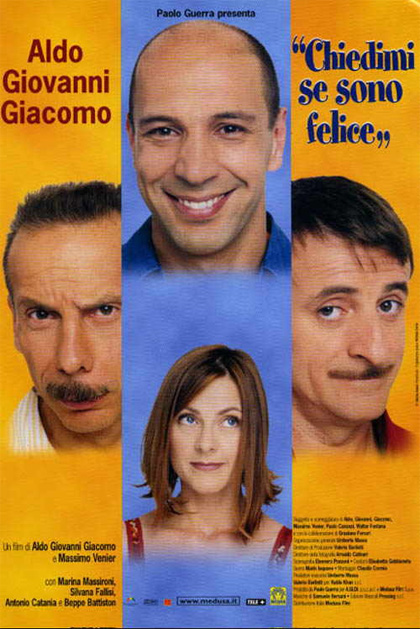 On Tuesday 21th october, the ESN Cineforum takes off!
Do you like movies? Would you like to deepen your knowledge of the Italian language and culture, while spending an informal evening with ESN and all your international friends, completely free of charge? Or do you simply want to enjoy a nice movie?
Great, then keep your evening free of commitments on Tuesday the 21th! ESN offers you a journey throughout some cornerstones of Italian cinema, across different genres and authors that made our country famous in the world!
The entrance is free of charge and restricted to the owners of the ESN card: don't forget to bring it with you!
We meet at 21:00 p.m. in Piazza Antonio Scaravilli, at the Economy Faculty, right outside of the Aula 3.
The screenings will always be in Italian with Italian subtitles.
The fourth film of the series will be "CHIEDIMI SE SONO FELICE", third movie of the famous comical trio "Aldo, Giovanni and Giacomo" which had seen a great success of audience in 2000, making it one of the highest grossing in the history of the italian cinema. Preparing to the trip to Milan after having onored Bologna, Napoli and Florence finally came the time of the symbolic city of Northern Italy.
Three friends (one dubber for coughs, the other an extra at La Scala and the third is a living statue in a supermarkets) are trying, unsuccessfully, to realize their dream: to stage the "Cyrano de Bergerac" by E. Rostand. But Giovanni, in love with Marina, a hostess, sees her "stolen" almost involuntarily from Giacomo. Three years after, Giacomo (who now lives with Marina) goes looking for Giovanni, who has never forgiven him for the suffered, to convince him to meet one last time with Aldo, nearly to die, with whom he had quarreled blaming him of being the accomplice of Giacomo. So depart for a trip to Sicily, hoping to make peace and friends as in the past.
Far from common stereotypes of gray city, sad and "glamourous", Milan becomes  the set of this comedy simple and smooth immersed in a surreal athmosphere, without ever being vulgar or too repetitive, putting as its central theme the sincere friendship between three characters.
See you there!
For information: